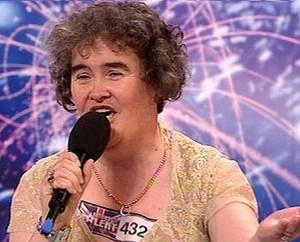 (Photo source Examiner.com)
By now I'm sure you've heard about the singing sensation Susan Boyle? She's the overnight singing sensation who recently appeared on Britain's Got Talent. She's a 47 year old unemployed lass from Scotland, who just gave an amazing rendition of an Elaine Page song.
Why am I talking about Susan Boyle on a blog about speaking? Well, there two reasons; the first is that it's nevertoo late to go for your dreams and goals. If you've got a passion and, importantly, the talent to back it up then just go for it. Susan Boyle did it.Doesn't matter whether she wins or not…
Secondly, for someone who has never really performed before she had amazing stage comfort and confidence. This is something that's very important for speakers and humorists. In fact when you click on the link you'll see that she has a bit of a natrual wit about her.
Susan Boyle on Britain's Got Talent
As you can see not only has got a great singing talent she confident and… she's funny.
No jokes, no quotes, no funny PowerPoint slides – just 100% Susan Boyle.
She was a great breath of fresh air for Britain's Got Talent. She hasn't gotten in her own way and struggled writing jokes, or trying to fund funny things to say. She just uses her own, charming sense of humour. I've mentioned this before and she doesn't need lessons in order to learn stand-up comedy. The raw material's there already.
I do think Susan Boyle is a lesson for us all… we are best and funniest when we are just being ourselves and letting our sense of humour flow through.
The contest isn't over yet, there are lot more contenders to get through. But no matter what happens in the end I don't think this is that last we'll be hearing from Susan Boyle.
My comedy mentor Steve Roye seems to think so too. He even released this press release Comedy Guru Reaches out to Britain's Got Talent Contestant