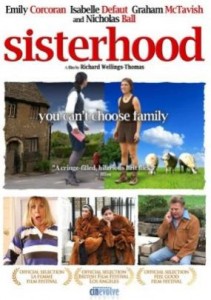 Sisterhood Gets a DVD release!
If you are a regular reader you would have read about an appearance that I made in a low budget movie called Sisterhood
.
I blogged about this Brit-Kiwi comedy here, it's been slowly building up momentum and has appeared at a few film festivals, been nominated for a few awards and even won one!
It had its world premiere at The Feelgood Film Festival in Hollywood in August 2008, where it was part of The Official Selection. It was also part of The Official Selection at LA Femme Film Festival the same year.
This year Sisterhood appeared at in The Official Selection at The British Film Festival in L.A., U.S.A. where it was nominated for 3 awards including Best Comedy, Best Actress and Best First Film. It ended up winning Best First Film!
It's a fun little film and if you happen to see it you'll have to hold out until the end of the flick for this blogger to make his feature film debut. I only appear in one scene as a Lawyer who gives a Will reading, but it's quite a pivotal moment nonetheless.
I know that the Director Richard Wellings-Thomas and Actress-Writer-Producer Emily Corcoran have been trying to make a film for years. For various reason either the projects weren't right, or they were unable to raise the money.
But now they've done it.
So what can we learn from this experience?
Well, it just goes to show that if you want something bad enough and keep at it you CAN achieve something. You have to keep plugging away at it long enough. Remember to be realistic, for instance I could never play basketball no matter how much I wanted to. And most importantly… just hang on in there!
In case you're wondering how a public speaking blogger ended up being in a feature film, well I have a background as a professional actor and this film was the last thing I did before I made the transition to being a humorist and coach.
The groovy thing is it's out now on DVD and Blu Ray both available on Amazon.com. Here's the Sisterhood
DVD link and here's the Blu-ray link: Sisterhood .
Please note, that this is a U.S. Region 1 DVD which means it's only viewable on a region 1 player or on a multi-region DVD player.
Some Press Quotes
"Warm-Hearted" – Sunday Express
"Uneffected Gusto" – Evening Standard
(Picture source Cinevolve Studios)
Note: There are affiliate links on this page. That means that if you make a purchase, via my link, I get paid a commission. It helps me pay the bills.