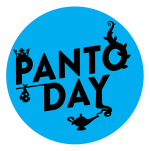 Today is Panto Day! The Christmas Pantomime is that curious British tradition of a family comedy variety show where the Principal Boy is played by a woman, and the middle-aged spinster, known as the Dame, is played by a man. Pantomimes, or Pantos for short, usually incorporate singing, dancing, buffoonery, slapstick, cross-dressing, topical references, audience participation, and mild sexual innuendo.
Brief, Brief History
Over the last 40 years or so, in order to help keep shows selling out, it has become popular for many shows to use C- and D- list TV celebrities, pop stars and now old Hollywood film and TV actors. There have also been times where panto has become the performance retirement home for once popular comedy stars from British television's heyday.
Sadly, this, along with recycled, hoary jokes, has given panto a bad reputation of being tacky and many people in the British theatre industry look down upon the art form. The difficulty is two-fold; the first comes from the panto writers and actors trying to keep the traditional comedy routines alive by handing them down to the next generation. The second difficulty lies with the theatres trying to make enough money to stay afloat, so resorting to various celebrities.
Part of the fun of Panto lies with the audience being familiar with the old comic routines and jokes and they are often disappointed when they don't feature. The problem with this comes when there are jokes made about targets from the 1970s or 1980s that are just no longer considered funny. Derogatory jokes against homosexuals or slightly dubious racist/sexist jokes crept into scripts written during that time period, but the scripts were probably not updated to remove those jokes so, sadly, many pantos in Great Britain continue to use that material.
Even some of what Abbott and Costello did, were classic routines that many comedians before them had used. They just perfected and honed them and made them their own. It would be difficult for a double act to perform the "Who's on First" routine without being compared to Abbott and Costello or feeling like they were being ripped off. Even some of Charlie Chaplin's early comedies were filmed versions of sketches he performed live in British Music Hall; I am all for preservation of comic routines and finding ways to make them relevant for a modern audience. But one has to be careful of not attacking an old target.
Participation
There are also key moments of audience interaction such as when a character onstage says something like "Oh no I shouldn't" the audience is encouraged by the other actors to reply "Oh yes you should"; or variations of that phrase. There is also the participatory line "it's behind you", which the audience get to shout out when there's a scary creature or another character behind one who is already on stage.
Having seen a number of pantomimes in my youth, I am still a relative newcomer when it comes to performing in them. Early in my career I played Hansel in a touring production of "Hansel & Gretel" and also Ernie the Elf in a touring production of "Sleeping Beauty". Yeah, I don't remember that character appearing in the original story either…
The Archetypes
The Principal Boy role usually played by a woman and the Comic Lead played by a Man who has a lot of interaction with the audience. Each of us performed characters that blurred those traditional panto archetypes as there were only three actors in each show.
Although there have been productions of shows such as Cinderella since the late 1800s, this type of Entertainment is still little-known in the United States. According to my research there have been intermittent productions in California, with more regular shows performed in Ghent, New York and Evanston, Illinois.
In late 2012 I played the role of the Dame in a production of "Bah, Humbug!" for Piccolo Theatre
in Evanston. Like the PantoLoons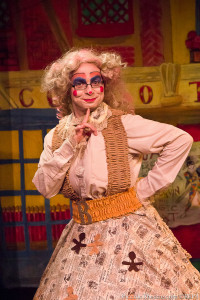 production company in Ghent, Piccolo were in their 12th season with their annual Panto. The archetype of the Dame is sometimes referred to as the Principal Comedian and is played by a man. On the right, that's me as Belle Bakewell the Dame in "Bah, Humbug!"
Pantomime Dame vs. Drag Act
A common misconception is that the Dame is drag act; it's not. The documentary from the early 1980s, "The Art of the Pantomime Dame", talked about how the Dame is a man trying to be a woman, but failing. A drag act tries to be successful as a woman.
If the make-up and costume are too perfect the character tips over into being a drag act. In my mind, what hasn't help the misconception over the years is when drag acts such as Danny LaRue, Paul O'Grady and Dame Edna Everage have played the role. It gets a bit confusing.
There need to be subtle reminders that the performer is a bloke in a dress, without going so far has having facial hair. Legendary Panto Dame, Berwick Kaler, manages to achieve this with his annual shows at the York Theatre Royal. While he wears the outrageous dresses, he doesn't wear make-up.
"It's Behind You"
If you have the opportunity to see a pantomime then I would highly recommend it. As Sir Ian McKellen, who twice played Widow Twankey in Aladdin, once said: "Panto has everything theatrical – song, dance, verse, slapstick, soliloquy, audience participation, spectacle, cross-dressing and a good plot, strong on morality and romance – what more could you want from a family outing?"
To learn more about Panto online check out: Celebrate Panto (which talks more about Panto Day) and also It's Behind You, which was a great resource when I was doing research for Dame.)
Picture courtesy of REP3 Photography