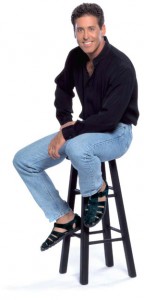 I was surprised to hear of the passing of musical impressionist Danny Gans who was 52. While you may not have heard of Danny Gans his story is certainly fascinating. A former minor league Baseball player Gans tried his hand at stand-up comedy performing in comedy clubs at the beginning of his career, but he didn't like doing them.
He discovered that he could sing as well and spent the next 15 years travelling around America making his money on the corporate circuit, performing 125 nights a year. He said he polished his act in front of "middle America, people who read People magazine… They loved clean comics. They loved music. It was Elvis' audience". However, it was only after he realised that his kids missed him that he decided to try a different tact.
He hired out a concert hall and Los Angeles which paid off as he landed a stint at the Neil Simon Theater in New York. But his family were based back West, so he got a gig performing in Las Vegas called the Stratosphere. From here he ended up playing The Mirage Hotel where The Danny Gans Theatre was built for him. In 2008 he was named "Las Vegas Entertainer of the Year" for the 11th year in a row.
If you search the internet there are a lot of comments wonder who he is. Having never seen his act from what I have read he seemed like a throwback to a different era. Gans seemed like he came straight out the "Rat Pack" era of the 1960s when performers like Frank Sinatra and Sammy Davis Jr could sing, dance, act and tell jokes.
Those types of performers don't tend to exist any more. If they do, there are certain quarters that pour scorn on what they do. You certainly can't pour scorn on the level of success Danny Gans achieved, whether you've heard of him or not.
For me at least from all the articles I have read about him he had one of those sorts of careers that I was intrigued to try and reverse engineer.  By that I mean to go through the stories that he himself told in interviews and those stories written ab out him and try to unravel what it was that made him a success. Not that I especially aspire to perform in Vegas, but just to understand the journey and how he managed to get there whilst being "unknown".
I had hoped that once I go to the States later on this year I might have an opportunity to go and watch his show, but sadly that's no longer going to be the case.