I never really intended to write a follow up to my previous post Creating Killer Content Off the Cuff, but I have because both myself, and fellow speaker Eric Feng, blogged on the same subject. Eric spoke about the Borden method:
"Ho hum!" (or B-O-R-I-N-G!)
"Why bring that up?"
"For instance?"
"So what?"
and I spoke about how I used a Mind Map in order to quickly create a speech. And I became really intrigued to see how this would work!
With both techniques there isn't really a lot of time to create a speech, so they are both good to do under pressure. I enclose a copy of my Mind Map.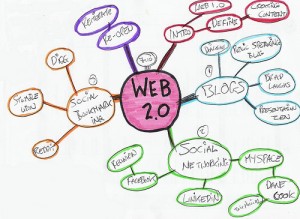 If you know anything about Mind Maps you'll see that this is not how they are normally done. What usually happens is that this stage where there are mostly circles is the first, idea-generating stage. You get the ideas down as quickly as possible and you try to find how they connect.
Then next stage you would then go on and do a Mind Map proper with the branches and capitalized text providing just a breif encapsulation of your ideas.
But as you can see it was literally just me throwing ideas down on the page because I was busy multi-tasking performing the role of time-keeper as well (and in case anyone's wondering, I did do the job well).
The speech structure that I use was the traditional Toastmasters/basic speech structure:
– An opening.
– Three points each backed up with at least one example and then
– A conclusion.
In this case I used a technique called "re-open" which Paul Evans author of Instant Speaking Success discusses whereby you end with a mini challenge for your listeners to hopefully spur them into action.
I decided to go ahead and post the Mind Map because of some of the comment exchanges that I had with Eric Feng. I thought that it might be good to see if the Borden technqiue and Mind Mapping can be unified.
Then Eric suggested that I share my Mind Map to see how we can synergise.
(He also mentioned another technique called PREP: Point – Reason – Explanation – Point. This was something that I haven't heard of and will look into).
But for now it'll be interesting to see how we can synergise these techniques. Over to you Eric!
If you liked this post, please retweet it on Twitter. Click to Retweet