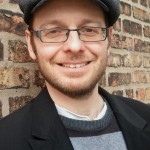 Hello and thanks for visiting the official Pro Humorist site.
This blog will provide a journal, of sorts, that will track my adventures in comedy as British ex-pat living in the United States.
There are still posts here for the previous incarnation of this blog too, which was to do with using humour in public speaking and presentations. There are useful tips, reviews and resources in my older posts. I hope they help you.
About the Author
Jason Peck is an English actor, comedian, writer, and producer based in Chicago, Illinois. Jason wrote and performed sketches for Newsrevue, the World's longest-running satirical sketch comedy show, and contributed material for the topical sketch show, The Treason Show. He has performed stand-up, sketch, improv, and acted in comedy plays.
Jason has been a speechwriter since 2006. As a past member of Toastmasters International, Jason was an Area Governor in Illinois as well as a club President. He also achieved Advanced Communicator Bronze and Advanced Leadership Silver status and won several humorous speaking awards both in London and Chicago.
Jason is also a proud Diamond Level Expert Author at EzineArticles.com, putting him in the top 1% of authors, on that site, who are focused on quality article writing.
For a more detailed biography please check out Jason's main website: Jason-Peck
For information about his micro-budget feature film romantic comedy, Falling For You

Published in: